(excerpt from Blue Travel Magazine - No 43 March 2007 Page No. 75)

Varkala has more to offer than a beach. It can be a place some time out and think about yourself, who you are. Yoga can play a part in this process of self - discovery.

On the cliff top you will see many advertisements: opportunities to take ayurvedic treatments and massage, Shiatsu, Reiki as well as cooking classes or the 'movie of the day'. You will also find many opportunities to take yoga classes here.

Let me tell you a little about this particular Hatha Yoga teacher, Sunil Kumar. Sunil is a master of Indian philosophy who speaks six languages, one of which is Sanskrit. He has acquired his learning and knowledge over a period of 12 years at the Sivagiri Ashram, and at universities in Kerala and Tamil Nadu.He has been teaching yoga in Varkala for the past three years.

Sunil's class always begins gently with breathing and stretching, in.....,out..., permitting you to slow the breath, the body and the mind. He speaks softly and his accent lends itself to the feeling of peace and tranquility that will begin to take you over as the class progresses through sun salutations and into asana work. Sun salutations will work all of the body and asanas, then work into more specific areas well.

Sunil is a master of asanas, or postures, and is happy to demonstrate these and more challenging anatomical variations to his students without leaving any sense of inadequacy in one's own abilities, only with a desire to progress within oneself.

All of Sunil's classes will end with a wonderful sequence of relaxation. He works through the breath to relax every part of the body, and in so doing, reaches the mind and spirit. I always leave his classes with a sense of well-being and peacefulness. I think you will too.
Testimonials
Dear Sunil (Guruji),
Thanks so much for talking to me about detachment......what you said makes so much sense, and I'm inspired, and determined to put it into practice!

The yoga experience...............

I was a reluctant yoga student, seeing it as a kind of medicine for all ills. I'd been meaning to take classes for years, I even had 2 short attempts years ago, but didn't enjoy it one bit. A friend recommended Sunilís classes, and so along I went for my first lesson, intending to give it a week, and then practice at home. The first morning seemed difficult; I was impatient, thinking I wouldn't be going again. But by the end of the class, I already had a feeling of calm, which stayed with me thought he day. Later I found myself looking forward to the following class the next morning. The backdrop from the rooftop venue, of coconut trees and ocean waves, had an added attraction.

I came to think of Sunil as Guruji, as he has such a special presence of calm, contented tranquillity..........a kind of Dalai Lama vibe..............

As well as the actual yoga asanas, which soon became enjoyable, loosening up my ageing joints, and calming my over-active mind, I enjoyed Guruji's parables; little stories containing great teachings to take me through each day. The short Sanskrit chants before and after the class give an extra depth, and the relaxation and meditation has a dreamy, floaty effect. So from deciding one class was enough, 8 months later, my daily sessions are the highlight and focus of living here in this tropical paradise.

Angel,
English ex-pat.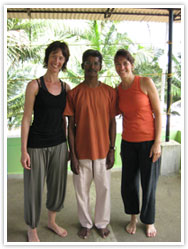 Dear Sunil.

How are you?

"It was such a pleasure to meet you and enjoying the classes with you as our teacher. I like your calm and charismatic way how you come across with people. In only a few but intense days I was able to improve my technique and do asanas I never did before. It was like magic with you and the whole scenery and a very special moment to me I'll never forget. Please stay as you are and keep on realising your dream. On that you will go on guiding and helping people. Thank you and Namaste."
Paula Heinze-Trunzer, 35 from Neuquen, Argentina

All the best for you.
Take care.

Paula
Dear Sunil,

Thank you so much for your wonderful yoga classes. Here are our testimonials:

"Sunil's sunny personality and sense of inner calm help to make his hatha yoga classes the best start to the day. I found them an enriching and thorough body, mind and soul experience. A must do while in Varkala..." Karen Heras-Kelly, London, England

"In his hatha yoga classes, Sunil combines postures with breathing exercises and relaxation techniques, making it the perfect morning exercise for mind, body and soul". Kate, London England.

We hope to see you soon. Peace, love and light...

Karen