About the Teacher
Mr. Sunil Kumar was born in a village called Kadampanad, Pathanamthitta in Kerala, India.

After studying at the D.B College Sasthamcotta, he joined the 'Brahmavidya Acharya' course in 1985 at the Sivagiri Mutt Varkala. The Brahmavidya Acharya course is a seven year course conducted by the Sree Narayana Sivagiri Mutt for prospective sanyasins. Seven years they teach Yoga, Vedanta and other schools of Indian philosophy. Sunil successfully completed the Brahma vidya acharya course under the guidance's of Swami Chitkananda, Swami Kaivalyananda, Prof.R Vasudevan Potti, Prof.G Balakrishnan Nair and others.

Sunil had done 5 years of karma yoga, after his study at the ashram.

After completing the Vedanta course, he took a one year break and went around India on a pilgrimage.

During his travels, he met many monks and spiritual masters. He met famous gurus like Mata Amrithanada Mayi, Sathya Sai Baba, Guru Nithya Chaitanya, Swami Vishnu Devananda, Swami Ranganathanada, Swami Agnivesh and many more. Sunil also got chance meet direct disciples of Sree Narayana Guru and Ramana Maharshi.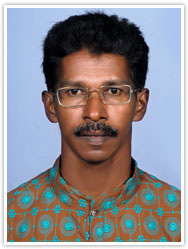 Yoga Experience
Sunil's first yoga lesson was from Swami Samprasadanda, a monk from Sree Ramakrishna mission, in the year 1986 at the Sivagiri Mutt, Varkala. During this time of his yoga practice a yoga teacher trainer from Pune joined Sivagiri and became Sunil's new teacher. Jayaprakash, Sunil's yoga mentor inspired him to complete the Sivananda TeacherTraining Course at Neyyar Dam in 1995. During the same year Sunil also completed the Sadhana Intensive course from the same ashram. In 1996 he completed his Advanced Teacher's Training from Sivanada ashram. After the A.T.T.C. he joined Bangalore Vivekanda Kendra for further study of yoga and yoga therapy for a period of one year.
Teaching Experience
Soon after Sunil completed his yoga T.T.C he started to teach yoga at Sree Nrayana Guru viswa Samskara Bhavan in Trivandrum. Later when he studied in the Bangalore at the Vivekanda Kendra, he taught yoga to the Vedanta students. Sunil started his own yoga school in Thiruvannamalai in1997 where he continued up to 2000.Sunil left for Russia in 2000 and taught yoga in Russia for three years.

Later Sunil returned to India and started a yoga studio in Trivandrum. Since 2004 Sunil has been teaching yoga in his own centre' Yoga Vasishta', at Varkala Beach in Kerala. Sunil has been practicing yoga for last 26 years and teaching for 16 years to thousands of students from all over the world.

Because of Sunil learned yoga, its philosophy and the many spiritual aspects associated with yoga, his lessons are not just physical exercises. It is rejuvenation for the body, the mind, the spirit. Sunil is famous for his savasana instruction (relaxation).His gentle approach to correct the postures is always well appreciated